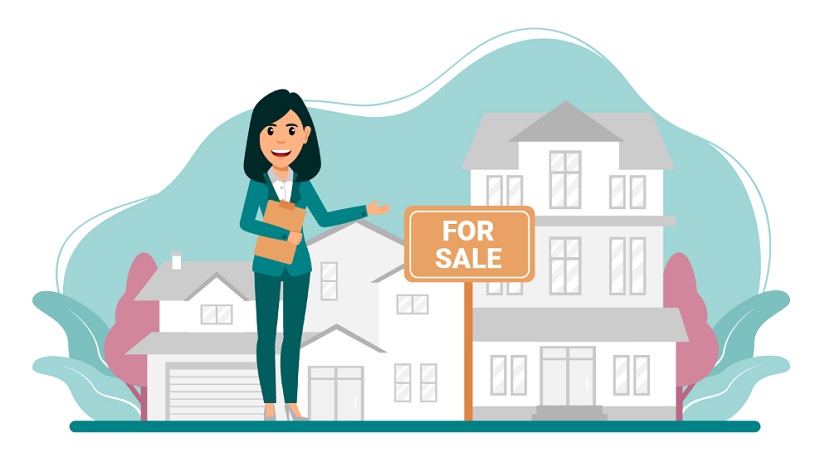 Professionals with a licence to represent buyers or sellers in real estate transactions are known as real estate agents. Real estate has been rapidly expanding in Ahmednagar, a city in Maharashtra, India, and real estate agents are becoming more and more well-liked.
A variety of legal, financial, and practical factors need to be taken into account when buying or selling an investment in real estate. A real estate agent in Ahmednagar may be very helpful throughout the process, even if it could be overwhelming to handle everything on your own.
Read on to know some of the major benefits of hiring a qualified real estate agent in Ahmednagar.
Understanding of Local Market
Working with a real estate agent has many important benefits, one of which is their understanding of the neighbourhood market. A beneficial real estate agent will have a thorough awareness of the neighbourhood real estate market, including the most recent trends, costs, and inventory.
This information can ensure that you receive the greatest deal when buying or selling a property and can assist you in making informed decisions.
Obtaining Exclusive Listings
Exclusive listings that are not accessible to the general public are frequently available to real estate agents. If you're searching for a specific kind of property or a specific area, this can be extremely helpful. You can work with an agent to identify properties that fit your requirements and bargain for a lower price.
Expertise in Negotiation
Property price negotiations can be challenging, especially if you are unfamiliar with the neighbourhood market. A real estate agent can assist you in obtaining the highest potential price for your house since they are skilled negotiators. They can also assist you in overcoming any financial or legal obstacles that may emerge during the negotiation process.
Time-Saving
A property transaction can take a lot of time, especially if you try to handle everything on your own. By taking care of many of the administrative and logistical responsibilities involved in the process, a real estate agent can help you save time. This can free up your time so that you can concentrate on other things like moving preparations or looking for a new home.
Business Networking
A real estate agent has a large network of business associates, including brokers, financial institutions, and attorneys. Having access to this network can be quite helpful when purchasing or selling real estate. The proper buyer or seller can be found with the help of an agent, and they can also help you acquire access to finance or legal counsel.
Knowledge of Legal and Financial Problems
There are several legal and financial factors to take into account when buying or selling real estate. A real estate agent in Ahmednagar can guide you through the process's many financial and legal requirements because they are knowledgeable in these areas. They can also assist you in comprehending the numerous costs and expenses related to purchasing or selling real estate.
Customised Service
Last but not least, working with a real estate agent in Ahmednagar gives you customised service. You can work closely with an agent to identify your unique wants and objectives, and they can then assist you in finding houses that fit those criteria. Throughout the buying or selling process, they can also offer direction and support, making sure you are well informed and ready for each step.
Before selecting a real estate agent in Ahmednagar, keep the following things in mind:
● Knowledge and Skills
The level of experience and knowledge a real estate agent has is among the most crucial factors to take into account. Choose a real estate agent with some experience in the field and a track record of closing deals.
Additionally, look for a real estate agent with experience in the neighbourhood where you want to buy or sell a property. A skilled and qualified realtor can give you useful information about the local real estate market and aid in your decision-making.
● Communication and Professionalism
The two most important characteristics to look for in a real estate agent are professionalism and communication. An excellent agent will treat you with professionalism, be on time, and respond to your questions. They should keep you updated throughout the purchasing or selling process and have outstanding communication abilities.
Look for a real estate agent that is attentive to your requirements and worries and who communicates effectively.
● Reviews from Clients
Check references and client evaluations of potential estate agents before hiring one. Look into the agent's reputation online on sites like Google or Facebook and see what other customers are saying about their interactions with the agent. To gain a sense of the agent's professionalism and work ethic, you may also ask for references and speak with some of their previous clients.
● Marketing Techniques
Selecting an agent with a strong marketing technique is crucial if you're selling a home. Choose a real estate agent who uses a range of marketing strategies to connect with prospective buyers, including social media, online listings, and conventional print media.
● Commission and Fees
The real estate agent's fees and commission must also be taken into account. The majority of agents operate on a commission basis, which is often a percentage of the property's sale price. Since the commission rate varies from agent to agent, it's critical to know how much you'll be paying and what services are covered. Choose a representative who offers transparent rates and a fair commission rate.
Conclusion
Whether it comes to purchasing or selling a house, working with a real estate agent in Ahmednagar can offer many advantages. An agent can assist you in navigating the difficult process of purchasing or selling a property with ease thanks to their understanding of the local market and their proficiency in legal and financial matters. If you're thinking about buying or selling a home in Ahmednagar, you might want to consider working with a skilled real estate agent.
Before making a choice, take into account the agent's experience, professionalism, communication abilities, client testimonials, marketing tactics, and fees. You can guarantee a successful and stress-free real estate transaction by picking the proper agent.