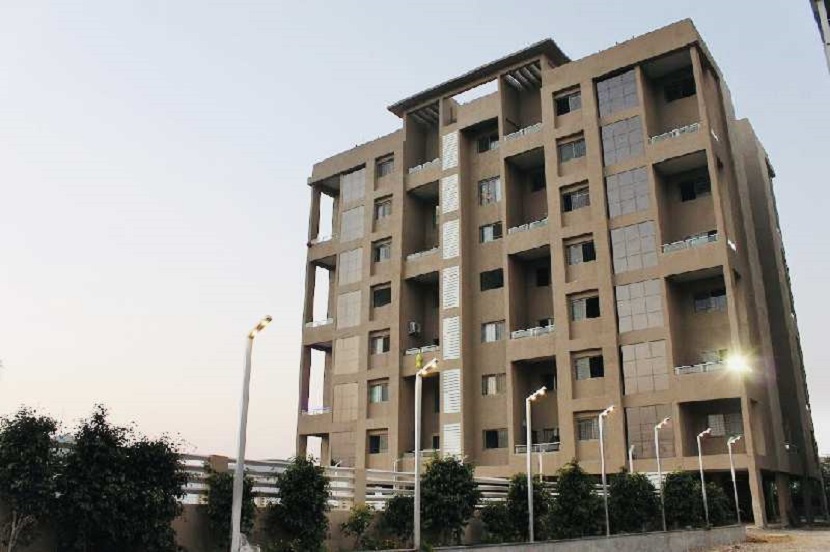 Ahmednagar is a city in the Ahmednagar District in the state of Maharashtra, about 120 km northeast of Pune and 114 km from Aurangabad. The city of Ahmednagar is mainly famous for its agribusiness activities and watershed developments. Numerous Properties are up for sale in Savedi Ahmednagar at a reasonable price. These 1 BHK flats start at a price of 22 lakhs.
Home specifications-
North facing
1 Terrace + dry balcony
3rd Floor (2 lifts with backup)
1 Covered Car Park
Video Security Doorbell
Safety Gate
Inverter point with cabinet
Premium Kitchen Trolley
Semi-furnished with Quality
Amenities
Power Back Up
Lift
Reserved Parking
24/7 CCTV Surveillance
Maintenance Staff
Water Availability 24 hours
Mode of Transportation
Ahmednagar city has air connectivity by Seaplane service. The port for Seaplane is situated at the Mula Dam water reservoir, 30 min away from Ahmednagar City. The service was provided by Maritime Energy Heli Air Services Pvt. Ltd. (MEHAIR) from 22 September 2014. Ongoing Flight is accessible from Juhu, Mumbai to Mula Dam.
Ahmednagar is well-served by roads with major cities of Maharashtra and other states. Ahmednagar has 4 lane road connectivity to Aurangabad, Parbhani, Nanded, Pune, Nashik, Beed, Solapur, and Osmachand. National Highway 222 from Kalyan to Niraml near Alidabad in Telangana passes through the city.
The Maharastra State Road Transport Corporation (MSRTC) and different private transport operators provide bus services connecting the city to all parts of the state.
Ahmednagar has 3 main bus stands:
MSRTC Tarakpur Bus Stand - All the buses proceeding via Ahmednagar, do stop here.[26]
Maliwada Bus Stand - The buses proceeding to Aurangabad/ Jalgaon/ Akola stop here.
Pune Bus Stand - Buses proceeding to Pune/Mumbai take a halt here.
Places to Visit in Savedi Ahmednagar
Harishchadragard Fort
Harishchandragad is a hill castle in the Ahmednagar district of India. Its history is linked with that of Malshej Ghat, Kothari village and it has played a major role in guarding and controlling the surrounding region.
Shri Chatrapati Shivaji Maharaj Statue
The Chhatrapati Shivaji Maharaj Smarak or Chhatrapati Shivaji Maharaj Memorial is a monument under construction devoted to Chhatrapati Shivaji Maharaj, the 17th-century Indian warrior king and creator of the Maratha Empire. The statue will be situated in the Arabian Sea, close to the coast of Mumbai, Maharashtra.
Ahmednagar Fort
The Ahmednagar Fort (Ahmadnagar Qilaa) is a fort located near the Bhingar Nala near AhmednagarMaharastra. It was the head office of the Ahmednagar Sultanate. In 1803, it was laid hold of by the British during the Second Angelo-Marathi War. It was utilised as a prison throughout the British Raj. Presently, the fort is under the administration of the Armoured Corps of the Indian Army.
Cavalry Tank Museum
Cavalry Tank Museum is an armed museum in Ahmednagar in the state of Maharashtra, India. It was entrenched by the Armored Corps Centre and School in February 1994. It is the only museum of its kind in Asia and houses about 50 exhibits of vintage armouredfighting Vehicles.
Farah Bagh
Farah Bagh (also called Faria Bagh) is situated in Ahmednagar, Maharastra. It is a palace built by Nizam Shahi rulers in Ahmednagar.
Farah Bagh was the centrepiece of a huge palatial complex concluded in 1583. It was the special possession of the royal household and Murtaza Nizam Shah often retired here to play chess with a Delhi singer whom he called Fateh Shah and also built for him a separate mahal known as Lakad Mahal in the garden.